One thing that distinguishes professional cleaners from amateurs is their high level of organization. Indeed, in Richmond, VA best house cleaners never go in blindly, regardless of how easy the job is. They always have a plan and their service checklist is an essential part of it.
But why is it so, you may ask? Simple: a checklist is a tool that enables your cleaners to be thorough and efficient, therefore ensuring a service of the highest order and your satisfaction. Today, we'll be taking a deeper look at this tool to see what you can expect from a reputable cleaning service.
What is a standard cleaning checklist?
At its core, a standard cleaning checklist is a detailed list of tasks and areas to be addressed during a cleaning session. While details may vary based on the service package, a typical, basic checklist may look like this: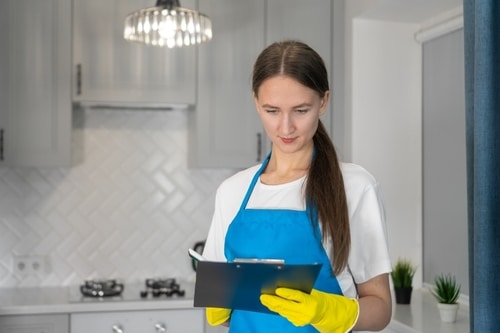 Kitchen:
Cleaning counters, backsplashes, and sinks;
Cleaning the outside of cabinets and appliances;
Cleaning the inside and outside of the microwave;
Dusting high and low;
Vacuuming and mopping all floors;
Wiping doors and window frames;
Washing and sanitizing door knobs and light switches.
Bathroom:
Cleaning cabinets and countertops;
Cleaning sinks and backsplashes;
Cleaning tubs, toilets, and showers;
Vacuuming and mopping all floors;
Wiping doors and window frames;
Washing and sanitizing door knobs and light switches.
Living Areas/Bedrooms:
Dusting high and low;
Vacuuming and mopping all floors;
Wiping doors and window frames;
Washing and sanitizing door knobs and light switches;
Washing and sanitizing handrails;
Damp-wiping furniture and decor;
Damp-wiping ceiling fans, blades, and lights.
Of course, this is in no way a comprehensive list. Rather, it is an example of how pros organize tasks to make the best use of their (and your) time and ensure consistent results across the board every time they pay you a visit.
Can I customize a cleaning checklist?
Absolutely! No cleaning checklist is not written in stone. In fact, every reputable maid service allows you to customize tasks according to your needs and preferences, as well as adjust the frequency and intensity of said tasks.
This is especially useful if you're hiring cleaners on a recurring (weekly, bi-weekly, monthly) or hourly basis, as it ensures you're getting a level of service in line with your exacting standards and expectations.
Additionally, a good cleaning company will have a list of Add-ons or optional services you can include/exclude from the checklist for even more convenience. These activities can range from cleaning inside the refrigerator and oven to washing windows and even whole-house disinfection.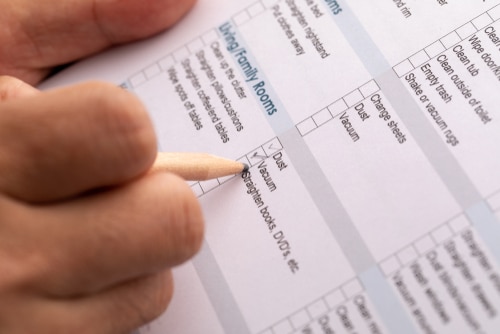 How often should the cleaning lady come?
There's no "one-size-fits-all" answer to this question, simply because every person and household is different in its own right. However, there are some factors to consider when deciding on the frequency of maid service:
House size: Larger homes generally require more frequent maintenance.
The number of occupants: More residents typically means more dirt.
Lifestyle: If you're frequently playing host to family and friends, you'll need cleaning more often, at least in the high-traffic areas.
The presence of children/pets: Mischievous youngsters and furry (or scaly, or feathery) members of your household are mess-making machines whose "fruit of labor" demands a lot of attention. And, we do mean "a lot".
Health concerns: Individuals suffering from allergies or health issues could benefit from a consistently hygienic environment.
Personal preferences: If you're comfortable with a bit of dirt in your home, you could generally go with a lighter cleaning schedule.
Based on these criteria and your experiences, you can decide whether to go for a weekly, bi-weekly, or monthly recurring service. That said, a bi-weekly arrangement is the "golden standard" for an average household but, even so, you should work with your cleaners to tailor a service plan that works best for you.
Where in Richmond, VA can I find the best house cleaners?
If you're looking for a reliable team to make your home shine and give you back your free time, The Maid Crew should be your go-to. With years of experience catering to Richmond residents and an array of quality-focused services, you can rest assured that your living space will show its prettiest face.
We are here to take care of all the cleaning chores while you do what makes you happy. Take your kids to the Children's Museum, catch a concert at Dogwood Dell Amphitheater, or simply rest and relax. Give us a call and let us make your life easier!