If you're searching for a professional house cleaning, it might feel difficult to make your way through the sea of options available in Richmond and the area. With a plethora of companies to choose from, pinpointing the one that perfectly suits your needs is certainly not an easy task.
However, asking the right questions is the key to conquering this challenge. When you come prepared for the interview, you can swiftly separate the wheat from the chaff, or in this case, the real pros from the novices. Ready to dive in? Let's go!
What questions should I ask my cleaning service?
Use these key points as your compass to ensure your home doesn't fall victim to amateurs and find a provider who is not only reliable but also excels at what they do:
#1 Can you share your business history and areas of expertise?
The cleaning industry relies heavily on experience. Around 50% of service providers never make it past their first year, and 90% close their doors by the fifth. Although partnering with a startup isn't necessarily a bad idea – everyone needs to start somewhere – well-established companies offer a greater degree of reliability. Plus, gaining a deeper understanding of their methods and specialties will reveal their experience and expertise.
#2 Do you bring your own cleaning supplies and tools?
It's fair game to expect your team to show up armed with their own cleaning artillery. It's generally the case that the best companies understand this and kit out their teams with high-quality tools and products for maximum efficiency.
#3 Can you walk me through your hiring process?
A stringent hiring process speaks volumes about a company's commitment to client security and satisfaction. Ideally, this should encompass thorough background checks and in-depth face-to-face interviews. You also want to ensure their team members are appropriately insured. Aside from that, find out if they hire subcontractors or manage their staff directly – the latter often implies greater control over service quality.
#4 How do you vet your team members?
Having a well-trained team is important, but so is the team's integrity. You want a company that's selective with its hiring. A solid vetting process typically includes:
Online tests and application
An initial phone interview
Checking references and backgrounds
An in-person interview coupled with a skill assessment
#5 What are your fees?
Businesses with a strong reputation always specify their fees upfront. Therefore, you shouldn't trust a company that gives imprecise answers to your questions regarding their pricing. The best way to get the most out of your money is to understand their rates. Also, be sure there are no additional or any hidden fees.
#6 What's your policy on damage compensation?
Even with the best professionals, accidents can occur during cleaning. For this reason, it's crucial to determine whether the company will cover any potential damages. Also, in the event an incident occurs on your premises, you may be held responsible unless the company offers compensation. So, be sure to clear this up.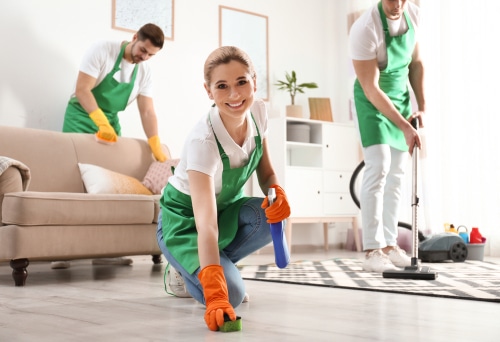 Where can I book reliable house cleaning in Richmond?
Not sure how often you should have your house cleaned? Or perhaps you want to outsource the most challenging tasks to a reputable service provider? No worries, you're not alone. With Maid Crew by your side, you'll have a safe and hygienic living environment at all times. 
Whether your schedule is bursting at the seams or you're yearning for a day at the Virginia Museum of Fine Arts with your loved ones, we've got your back. Just give us a call today and discover the transformative effects of quality and efficient home maintenance!